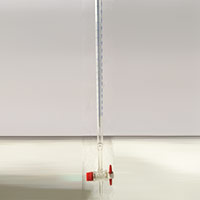 The burette
Description
A burette (also buret) is a graduated container, which allows a specific given volume to be delivered.
Elongated and narrow in shape, a burette has a stopcock at its lower end (which makes it possible to stop or modulate the flow of liquid delivered - it is made of glass or Teflon) and at its upper end a slightly flared opening (to facilitate its filling).
Generally a burette is made of glass, but there are also plastic ones. They come in different sizes, depending on the volume they contain.
Uses
A burette is usually used during the titration process, in order to accurately measure the volume at equivalence.
Several precautions must be taken when using a burette:
Initial rinsing with the liquid solution to be delivered
Verification of the absence of air bubbles (especially at the stopcock)
Liquid level adjusted to a graduation (ideally zero) to ensure accurate volume measurement
Reading the volume by placing your eye in front of the graduation to avoid the parallax error.
Next page
Previous page