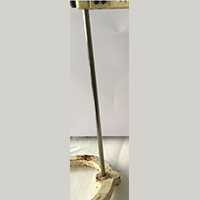 The ring stand
Description
A ring stand is a big metal rod, resting on a broad base, itself metallic, which ensures its verticality.
Uses
A ring stand is a very useful accessory in many chemistry experiments. It is used to hold several pieces of glassware with one or more clamps adjusted and fixed to the desired height on the ring stand.
It is used especially during titrations, to hold the burette.
Next page
Previous page